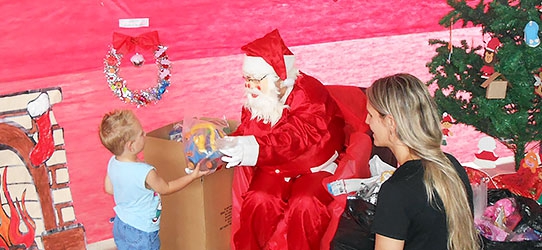 Click on image to view gallery.
DISTRIBUTION OF GIFTS TO CHILDREN IN THE COMMUNITY OF ARARICÁ
Between December 1st and 12th over three thousands toys were distributed, which had been collected during the 2nd "Gincana" (Recreational Competition) 2014. Volunteers helped to pack toys in kits and dressed up as Santa Claus to distribute the toys in schools in the region. It was a very rewarding experience for all those who participated in this supportive and fraternal action. The schools that benefited from this initiative were: Raio de Luz, Sonho de Anjo, Pequeno Príncipe, Martim Raschke, Francisca Isabel, Theno Grings, Cião, and Oliveira Neto. Over 1,118 children received gifts.